Kids Salon and Birthday Party Venue in Alpharetta
Want to give your child a day they'll never forget? At Sweet & Sassy of Alpharetta, we deliver more than just awesome pedicures, haircuts, and birthday parties. We create experiences that make kids feel like the royalty they are! We offer a wide variety of services that will be truly unforgettable for your kid.
From massages and facials to our magical Sweet Treat manicures and pedicures, our experiences are fully customizable so that your little diva can get exactly what they want. Whether your child wants sparkling nails, a fancy updo, or a hair blow-out, our licensed cosmetologists can give them the full royal treatment.
---
Contact us online or call (770) 504-5811 to schedule a spa and salon experience in Alpharetta for your kid today!
---
Our Kid Spa & Salon Services
Sweet & Sassy of Alpharetta provides a unique and exciting experience for children who love to get pampered! Our kid spa and salon services allow your little ones to have the special treatment they deserve. We provide haircuts and styling, manicures and pedicures, as well as fabulous makeovers.
Our experienced and friendly staff members specialize in creating a fun and positive atmosphere that leaves kids feeling special. They'll be treated like royalty as they get their personalized makeover from one of our highly-trained stylists. Kids can choose whatever look they want – whether it's glamorous or wild – we have something to fit every personality!
Kids Ear Piercing In Alpharetta
If you're looking for a safe and comfortable place for kids ear piercing in Alpharetta, Sweet & Sassy is the perfect destination. Our salon and spa is designed to provide a fun and engaging environment for children, and our experienced staff is dedicated to ensuring a safe and positive experience for your child.
We use sterile equipment and follow strict sanitation guidelines to minimize the risk of infection, and our staff is trained to handle children of all ages with care and patience. Our selection of earrings includes a variety of styles and colors to choose from, so your child can pick the perfect pair to express their unique style.
At Sweet & Sassy, we understand that getting your child's ears pierced can be a big decision. That's why we take the time to explain the process to your child and make them feel comfortable and confident. We also offer aftercare instructions to ensure proper healing and minimize any discomfort or complications.
In addition to ear piercing, our salon and spa offers a variety of other services for kids, including haircuts, manicures, and themed birthday parties. Our goal is to provide a one-stop shop for all of your child's beauty and entertainment needs.
If you're interested in scheduling an appointment for kids ear piercing in Alpharetta, please don't hesitate to contact us. We look forward to providing your child with a fun and memorable experience that they'll cherish for years to come.
Make Your Child's Birthday a Magical Experience
If you're tired of petting zoos, arcades, and movie theaters, then plan your child's next birthday party with Sweet & Sassy of Alpharetta. We offer a variety of experiences that will help your kid have their most magical birthday ever from start to finish.
A birthday with us is one that can include:
Goodie bags
Makeovers
Spa treatments
Fashion shows
Take-home keepsakes
And more!
Our Difference
As parents, we know that your child's safety is your top priority. While we want to make your child feel special in any way that we can, safety is also extremely important to us. All our spa products are free of parabens, sulfates, and phthalates, and our licensed cosmetologists love working with kids and making sure they have a safe, fun experience. While your child is having the experience of a lifetime, you'll have peace of mind knowing they'll be safe.
We are proud members of Alpharetta Chamber

Current Specials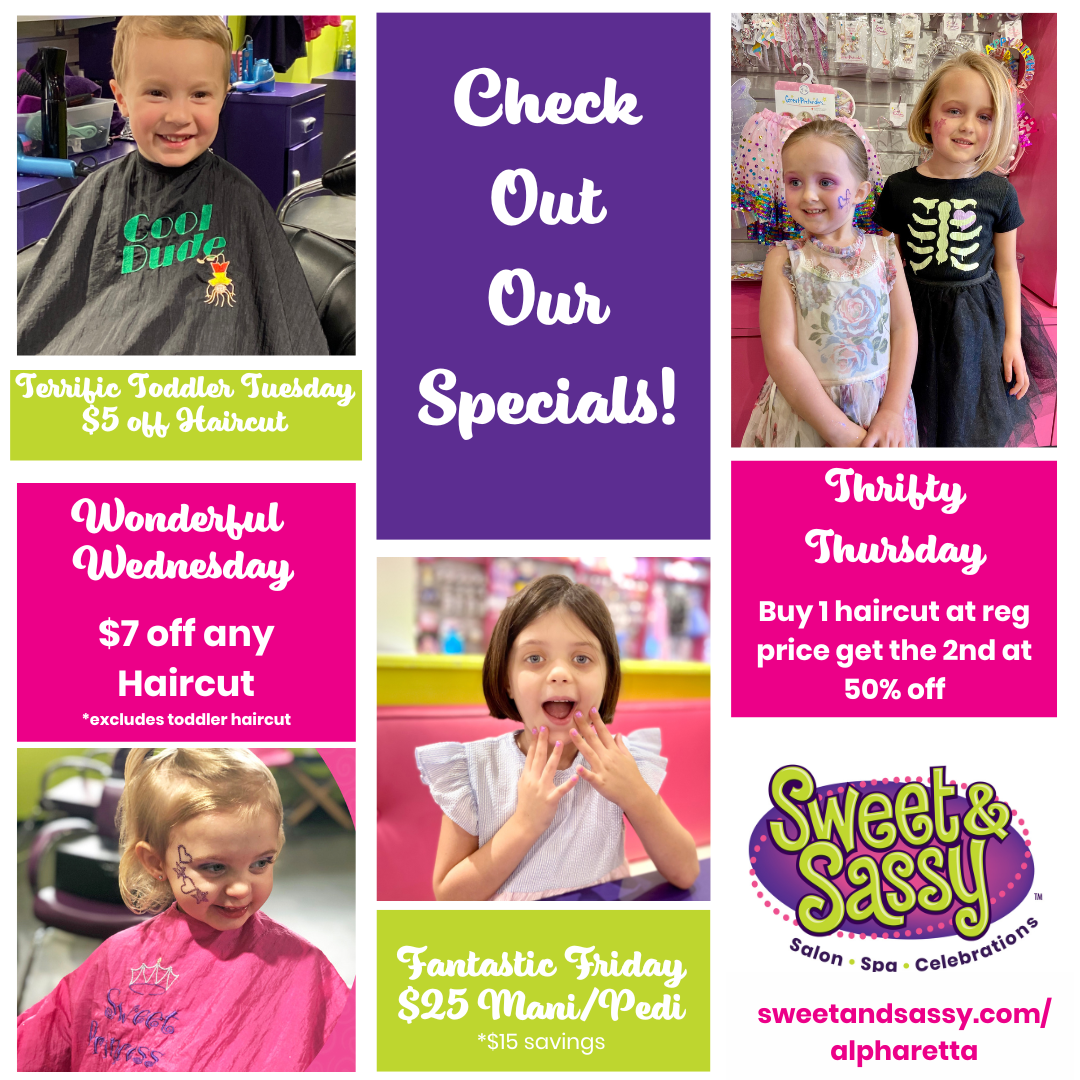 ---
Call us now at (770) 504-5811 or contact us online for more information, or to get your party started today!
---