What to Know Before Getting Your Ears Pierced
If you are thinking about getting your ears pierced, there are a few things to keep in mind. While there are a lot of opinions out there, the reality is that very little research has been published on the best methods for ear piercing and care. That's where we come in!
At Sweet & Sassy®, our ear-piercing services are designed with you in mind. We want this to be a fun experience from start to finish, which means we'll not only provide you with all the information you need to know before getting started, but equip you with everything you need for successful aftercare as well.
Let's get started!
Methods of Ear Piercing
There are two ways to pierce ears:
A gun system
A needle
While needles and guns can both result in bruising, it's no different than what you might see after getting a shot or blood draw.
Historically, piercing guns have been somewhat controversial, but it is our expert opinion that this is the safest method for ear piercings. Contrary to popular belief, using sterilized tools like a piercing gun is actually safer because it can effectively get rid of any skin tissues on an even larger scale than needles do.
Guns are a much more efficient way to pierce the ear than manually using a needle, and they typically result in less trauma to the ear. Their safety is further enhanced by the use of specialization kits containing a variety of accessories that can be pre-sterilized and help provide a consistent look across many piercings. Furthermore, exact needle depth can be regulated to ensure a minimally invasive piercing — avoiding the trauma caused by going too deep or not deep enough during a manual process.
For these reasons, we believe that piercings performed with guns are safer than when done manually with a needle.
Choosing a Metal for Your Piercings
What many don't know is that the type of earring you select is more important than how you choose to pierce your ears. Earrings are not one-size-fits-all, and what works well for one person might not for another. Don't fall into the trap of thinking that what worked for your friend or family member will necessarily be what's best for you, or that the most expensive option is always the best one.
Instead, ask yourself the following questions as you consider the right type of earring for you:
Are you allergic to any metals?
Do you react to certain jewelry?
Generally speaking, your skin is the same throughout the body, so if you've reacted to a certain type of metal in the past, even elsewhere on your body, it's best to stay away from it on your ears as well.
Choosing the proper jewelry for a piercing can make all the difference when it comes to healing and how long your piercing lasts. Here are a few things to know:
Sterling silver is a widely used metal, as it is the least prone to metal allergy outbursts; it is also resistant to bacteria growth.
If sterling silver is not an option due to metal allergies, titanium and gold may be good alternatives that still provide a lower risk of irritation.
Most important is to make sure any metal you choose is properly sterilized. Ultimately, metal choice should be catered specifically to your body composition to ensure optimal results from your piercing.
The Importance of Aftercare
Carefully following aftercare instructions will help you avoid infection and promote healing.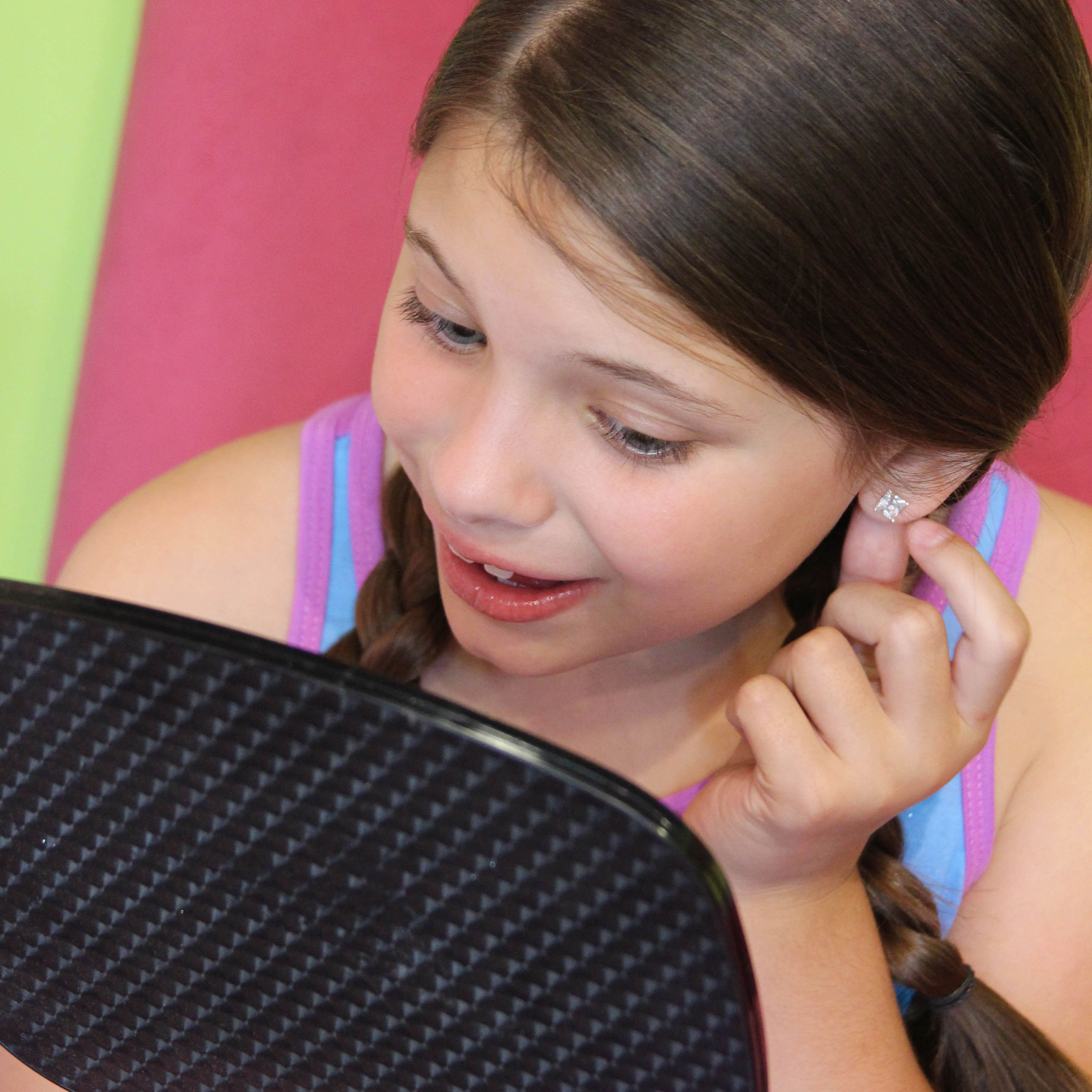 Allowing for 8+ weeks of aftercare is an important step in allowing your ear piercings to heal. The younger you are the longer time you need to allow your ears to heal. For kids younger than 10 we suggest always keeping earrings in your ears for the first year. Following the instructions provided by your professional piercer will help you avoid infection, reduce inflammation and swelling, and promote healing. Aftercare isn't glamorous but it's necessary, so make sure you know what activities to avoid; how to properly clean your piercings; and be mindful of hygiene.
Be Prepared for Some Pain – It's Normal to Feel Discomfort During and After the Piercing Process
When getting a piercing, it is important to keep in mind that it will likely be uncomfortable. That said, you don't have to let the fear of pain be a deterrent! While some pain or discomfort is normal, it's minimal and shouldn't result in much more than a light pinch.
Your piercer can take measures to ensure the piercing is performed quickly and as painlessly as possible. Be sure to listen carefully as they explain the process and what you can expect throughout. For example, at Sweet & Sassy® we recommend having little ones sit on a parent's lap during the piercing and/or hold a favorite stuffed animal during the process. The Sweet & Sassy® piercers will count to 5 and you will be done!
Properly following aftercare instructions for 2 months post-piercing will help keep away infections and potential pain. We recommend wearing the same earrings you were pierced with throughout this 2-month period, cleaning twice a day with the solution we provide, and avoiding removal of the jewelry until the piercing has had time to heal.
Sweet & Sassy® Is Here to Make Your Ears Ear-resistible!
At Sweet & Sassy®, we offer safe ear piercings for children of all ages. Our experienced staff uses sterile earrings that are packaged in a medical grade facility and clean equipment, so you can rest assured that your ears are in good hands. We also have a wide selection of jewelry to choose from, so you can find the perfect style for your little one. Plus, our aftercare instructions are easy to follow and will help promote healing.
Perks of choosing our salon for your piercing include:
We make the entire piercing experience memorable from start to finish, including a commemorative photo, ear piercing certificate, and lollipop!
We pierce both ears at one time!
We offer a large selection of 14k gold and surgical steel earrings to choose from.
We are competitively priced and have a highly trained staff for your safety.
To learn more about our professional ear-piercing services, click here.
Part sweet and part sassy, you're in for 100% fun when you get your ears pierced at Sweet & Sassy®. We can't wait to make your ears sparkle!
Posted By
Sweet & Sassy
Categories: