Professional Ear-Piercing Services
Ready, Set, Sparkle at Our Ear-Piercing Experience
Getting your ears pierced is a fun and exciting time! If you're ready to make your ears ear-resistible with our once-in-a-lifetime ear-piercing experience, it's time to make a visit to Sweet & Sassy®. We provide reassuring services that will have you sparkling in no time! Just pick out your favorite first pair from our wide selection, and with the approval of your parent or guardian, we'll make a quick sweet pinch and then Viola! Your first pair of earrings are in and shining!
Your ear-piercing will include:
Cleaning solution
Ear-piercing certificate
14k gold or stainless steel earrings
Lollipop
Keepsake photo (option may not be available at specific locations - please ask your local sweet and sassy location for further details)
We offer free ear-piercing with the purchase of select earrings, and all of our earrings are hypo-allergenic, sterile, and super cute!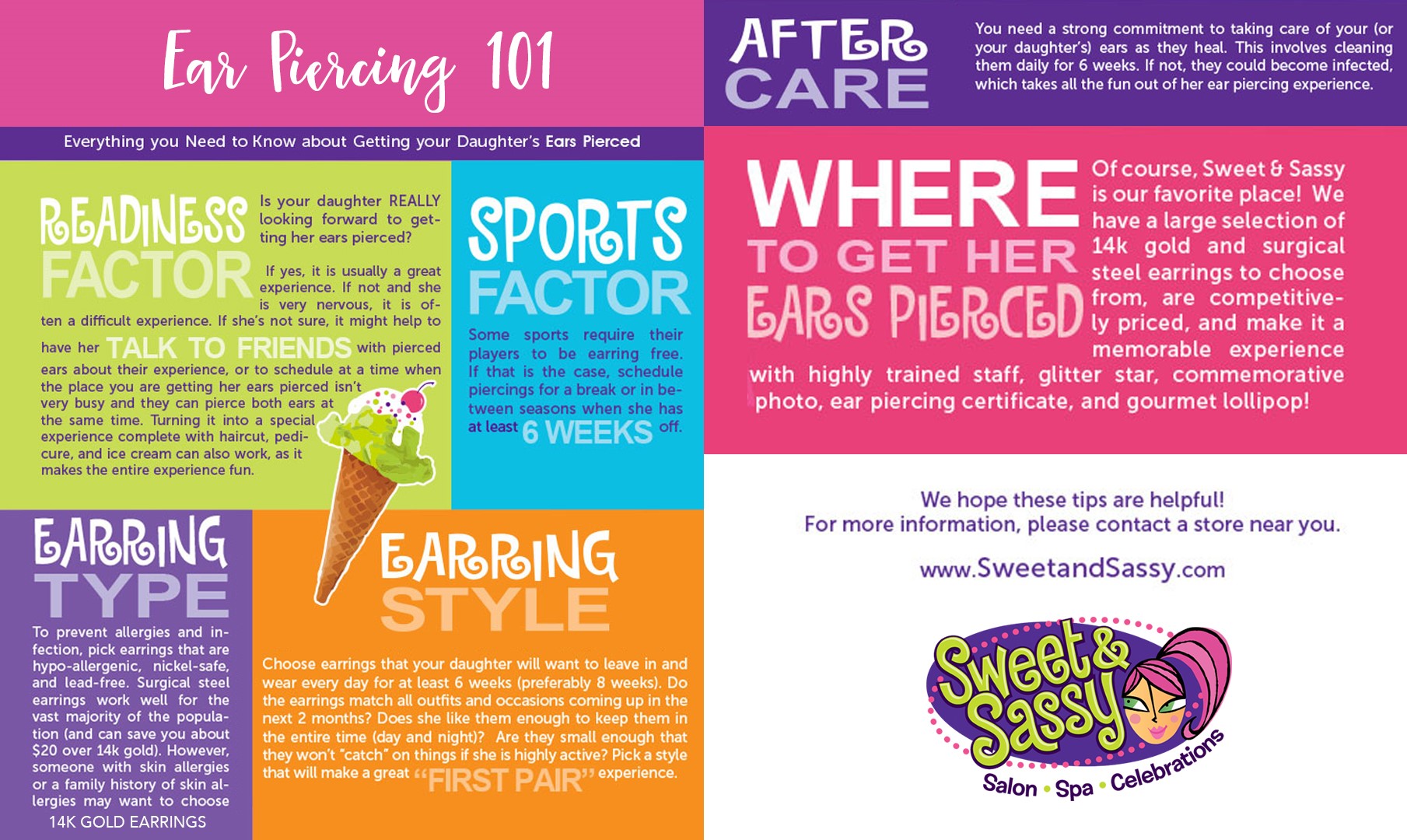 Ear-Piercing FAQ
Does Sweet & Sassy® pierce baby ears?
Most locations will do ear piercing on clients as young as four months old. Please confirm when making your appointment.
Does it hurt?
Some people say it doesn't hurt and some say it does. It might feel like a quick pinch.
How is ear-piercing unique at Sweet & Sassy®?
We do everything to make this moment memorable and comfortable for your sweet little one. From the soft throne-like chair to the keepsake photo and certificate, we go above and beyond to make this a special experience for you and your daughter. We also will suggest your daughter hold a stuffed animal or sit in mom or dad's lap for comfort.
Do I need to make an appointment?
We do suggest you make an appointment for ear-piercing so we can be adequately staffed. We make a point to pierce both ears at the SAME TIME with the help of two trained staff members. This allows the process to be celebrated by the count to five.
How do I care for my ears after getting them pierced?
A trained staff member will teach you how to clean your ears after you get them pierced. You will need to wear the earrings provided for a minimum of 2 months and keep a pair of earrings in your ears at all times for at least a year. Twice a day you will need to clean your ears with the solution provided.
Do I need to worry about my daughter being allergic to the earrings?
We only pierce ears with Surgical Steel or 14k Gold earrings. These are the two metals in which people are least likely to have a reaction. 14K Gold is the least reactive and a good choice for those concerned with allergies. Nickel earrings and other cheaper metals may cause a reaction and are not advised.
How soon can I wear fashion earrings?
You may try non-surgical steel or non-14k Gold earrings after two months of getting your ears pierced. If you show signs of sensitivity, return to wearing Surgical Steel or 14k Gold earrings for another two months. Your sensitivity to wearing other metals may wear off over time or you may find you have a lifelong allergy to certain metals. Check with your doctor if you show signs of sensitivity. Nickel-free earrings may be a good option for those with sensitive ears.