Professional Ear Piercing for Kids Near You
At Sweet & Sassy of San Antonio, we want to make your child's ears piercing a memorable and positive experience. We know that piercings can be both thrilling and nerve-wracking – for children and their parents! That is why our team goes above and beyond to make the experience as fun and reassuring as possible.
First, we allow you to pick out your choice of 14k gold or stainless-steel earrings. After, we will sit your child on a regal, throne-like chair and provide a furry stuffed animal for comfort. Once settled in, we will pierce your child's ears so fast and smoothly they should feel no more than a pinch.
Our entire process is designed to provide children with our royal treatment! After the earrings are in, we document the experience with:
A souvenir photo
An awesome certificate
A delicious lollipop
Looking for professional ear piercing near you? Give us a call at (210) 321-9824 or contact us online today!
Helpful Ear-Piercing Tips & Advice
When it comes to children's ear piercings, nervous hesitation is common. We will help alleviate any anxieties and answer any questions you may have. Our ear-piercing services start at four months old. All our sterilized earrings are hypoallergenic, which means they have a very low risk of triggering an allergic reaction.
With the purchase of select earrings, the piercing itself is free. We do recommend calling to make an appointment. Our team pierces both ears simultaneously. Therefore, we need to have two trained staff members present. After the piercing procedure, there are many steps you can take to mitigate infection or other complications.
Our ear-piercing specialist(s) will go over:
How to clean earrings with sanitizing solutions
How often you should clean your earrings
The importance of continuously wearing a new pair of earrings for the first two months
And much more!
---
Don't wait any longer to get the ear piercing you've been dreaming of! Book online or call (210) 321-9824 for a safe and comfortable experience at Sweet & Sassy of San Antonio!
---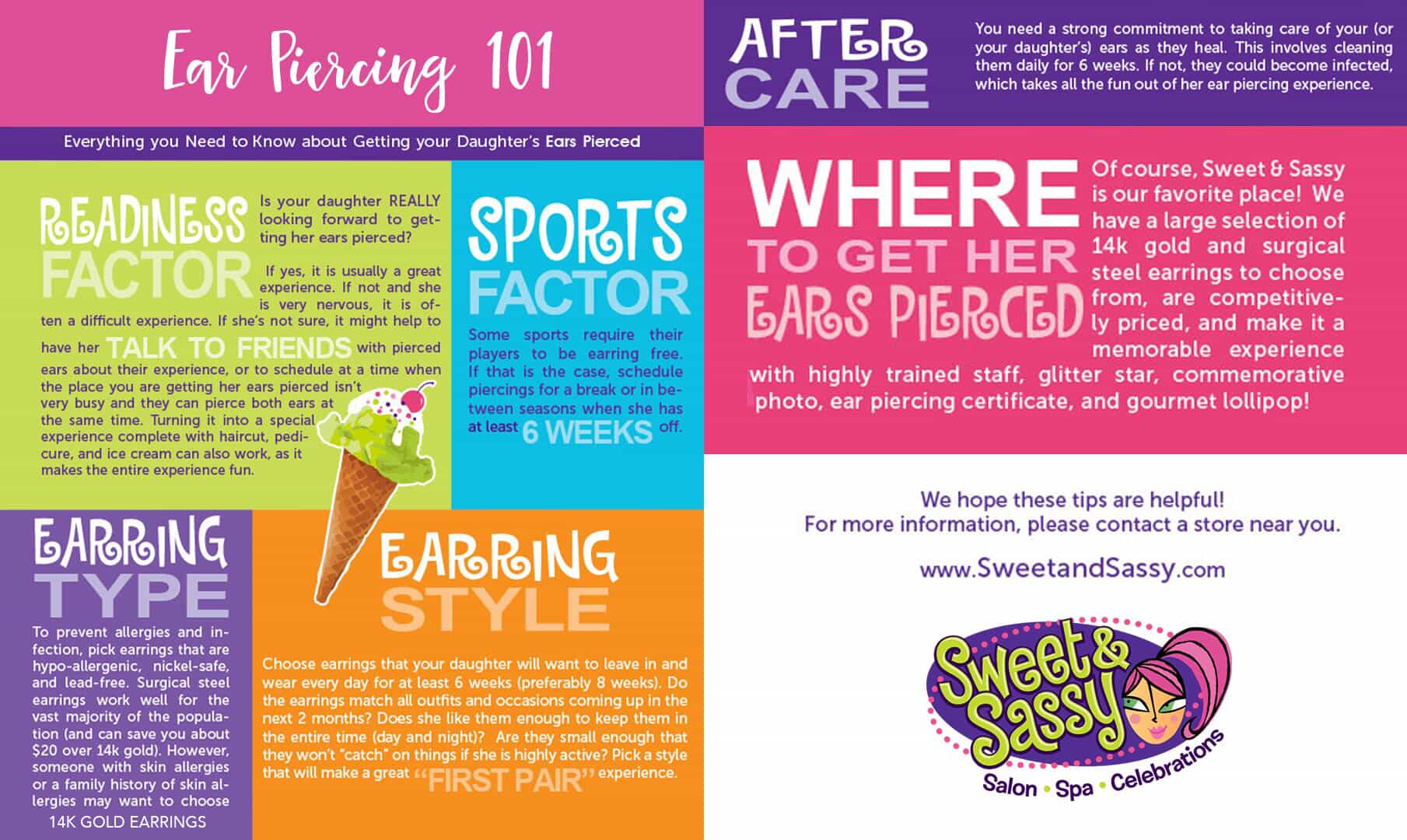 San Antonio Ear Piercing FAQs
Why choose Sweet & Sassy of San Antonio for ear piercing?
When it comes to something as special as getting your ears pierced, you want to ensure the experience is nothing short of perfect. That's where our team at Sweet & Sassy of San Antonio comes in. With years of professional experience under our belts, we know just how to make your ear piercing experience unforgettable.
From the moment you walk through our doors, we will greet you with a smile and guide you through every step of the process. Plus, we even offer a souvenir photo to commemorate this special occasion. At Sweet & Sassy of San Antonio, we take pride in delivering an exceptional, personalized experience that you will cherish for years to come.
When can I switch out my earrings?
You finally got your ears pierced and you're eager to start wearing all the cute earrings you've been eyeing at the mall. But hold on, don't be too hasty! It's important to wait at least two months before switching out your starter earrings to prevent any infection or irritation.
Luckily, our team at Sweet & Sassy of San Antonio has got you covered with our selection of stainless steel or 14k gold earrings. These materials are less likely to cause sensitivity or allergic reactions so you can rock your new look with ease. And if you do decide to switch up your earrings after a couple of months and feel any discomfort, just come back to the tried and true 14k gold or stainless steel pair.
Call (210) 321-9824 to book an ear piercing appointment in San Antonio or contact us online for more information.