Kids Ear Piercing in Katy, TX
Fun & Exciting Professional Ear Piercing for Kids As Young as Four Months Old
Getting your kid's ears pierced is a right of passage in many cultures and religions. Let Sweet & Sassy of Katy make it an event to remember!
Our kid's ear piercing experience at Sweet & Sassy® is the perfect way to make this a fun and exciting memory for your child. With our reassuring services, your kid can select a beautiful pair of first-time earrings from our wide selection, with parental approval.
All it takes is just one quick pinch for long-lasting style that will leave your child sparkling all day!
---
Schedule a kid's ear piercing appointment in Katy, TX by calling (281) 990-4838 or booking online.
---
What is Included in Our Kid's Ear Piercing Package?
At this special moment, we offer your little one a plush throne-like seat and an unforgettable photo – complete with a keepsake certificate. To ensure the utmost comfort for your child, they can choose to cuddle up in mom or dad's lap while holding onto a beloved stuffed animal!
Your kid's ear-piercing will include:
Cleaning solution
Ear-piercing certificate
14k gold or stainless steel earrings
Lollipop
Keepsake photo
Free ear piercing with purchase of select earrings $50.00 & Up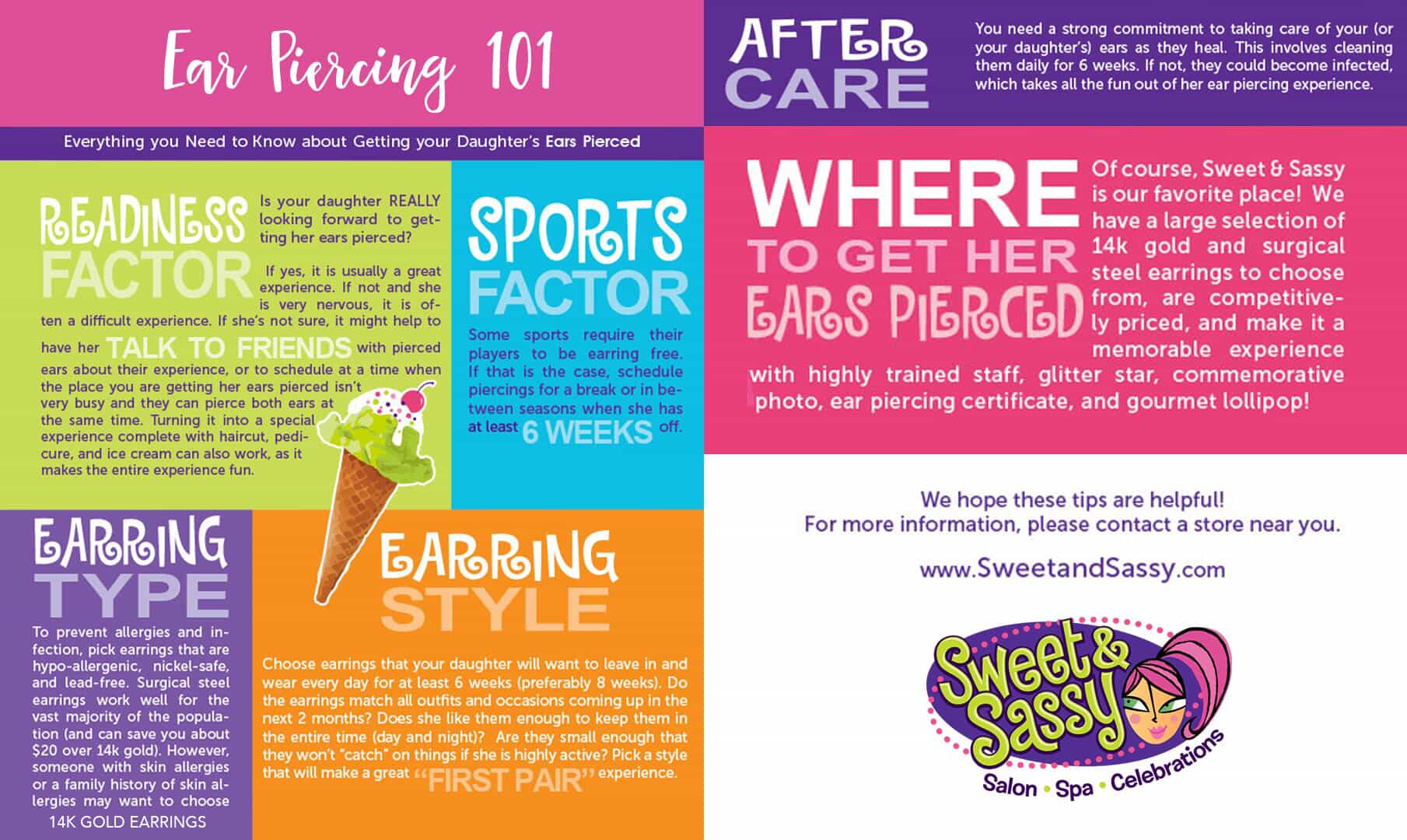 Ear-Piercing FAQ
How do I prepare my child for an ear-piercing?
If you're considering giving your little one the gift of a new sparkly earring, there are a few steps to keep in mind before taking the plunge. Start by having a conversation with your child about what it takes to properly care for piercings; emphasize the importance of keeping them clean and dry, and also warn about harsh chemicals getting too close.
After explaining everything be sure to celebrate this new stage of life with some ice cream and shopping for the perfect pair of earrings!
How do I care for my ears after getting them pierced?
If you've just gotten your ears pierced, congratulations! In order to keep your new piercings looking and feeling at their best, it is important to make sure you properly care for them.
Start by cleaning the area around the piercing (but not directly on the jewelry) with an antiseptic solution twice a day. After that, ensure your ears are dried thoroughly to avoid any buildup of bacteria or moisture. Finally, try to avoid touching the piercing as much as possible in general, so that you can make sure its healing environment remains clean.
For more information on our kid's ear-piercing near you, call (281) 990-4838 or contact us online today!