Kids Spa in Katy, TX
Delivering a kids spa day designed just for you
As a parent, you're always looking to up the ante and make your children feel special on their birthdays, special occasions, or just because they deserve it. For the ultimate spa for kids, trust Sweet & Sassy of Katy to create a completely luxurious and fun experience for children of all ages. We give your little ones a place to get pampered with mini facials, manicures, pedicures, up-dos, make-up, and their choice of lotions, scrubs, so everyone leaves looking and feeling their best.
---
Looking for party venues near you? Call us at

(281) 990-4838

to learn more about our Kids Spa parties in Katy today!
---

Our spa packages include:
Diva for a Day Package – Ready to feel like royalty? This hair and nail salon package comes with all the fixings, including a haircut and shampoo, blow-out, mani, pedi, a mini facial with make-up application, and so much more!
Head-to-Toe Package – Let certified cosmetologists get your child party-ready with a gorgeous updo, Sweet Treat manicure and pedicure, finger rings, two choices of nail art, and our signature lollipop!
Ultimate Spa Package – Does your child love getting the complete lux experience when it comes to pampering? Then this package is the perfect one for them! They will enjoy a spa updo, Sweet Treat manicure and pedicure, two nail arts, rings galore, a mini facial and hand treatment, one selection from the Make Your Own Station, and a delicious lollipop to top it all off.
---
Interested in throwing a kid's spa party in Katy, TX? Give us a call at

(281) 990-4838

or contact us online to learn more about our glamorous spa themed parties!
---
All of our specialty spa services are performed by licensed cosmetologists who are highly trained and experienced in working with children, so your child's good time is in the right hands. With our hair, make-up and nail salon and spa for kids in Katy, your child and their friends will get the ultimate spa experience and have lasting memories they'll cherish forever.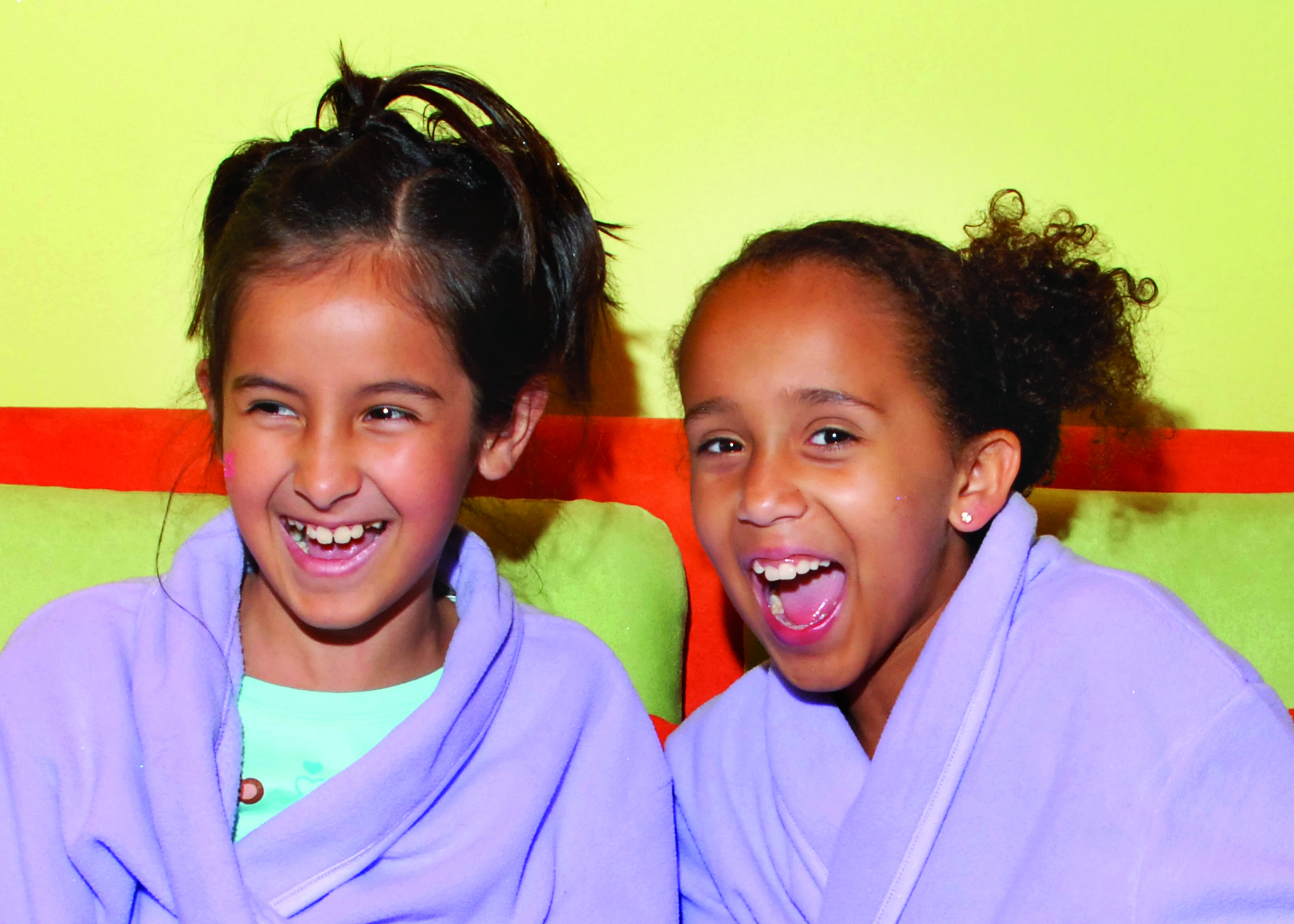 The Perfect Spa for Your Kids
Everyone deserves to get the full VIP treatment, and with our spa for kids, your little one will feel like the most important person—as they should. Our goal is to deliver an affordable, relaxing, and enjoyable experience that your kids will remember for a lifetime. With various specialty services, we have something everyone will love.
Why Choose Sweet & Sassy for Your Kids Spa Day?
When it comes to creating a memorable and magical spa experience for your kids, Sweet & Sassy of Katy is the perfect choice. Here's why:
Expert Staff: Our team of experienced and friendly spa professionals are trained to provide top-notch services and ensure that your kids have a safe and enjoyable spa day.
Customized Packages: We offer a variety of spa packages tailored to meet the unique preferences and interests of your kids. From princess makeovers to spa parties, we have something for everyone.
Safe and Clean Environment: We prioritize the health and safety of our young guests. Our spa facility is meticulously cleaned and sanitized, and we use only high-quality, non-toxic products.
Fun and Exciting Atmosphere: Our spa is designed to create a fun and exciting atmosphere for kids. From vibrant colors to themed decorations, every detail is carefully curated to make your kids feel special.
Convenient Location: Our spa is conveniently located in Katy, TX, making it easily accessible for families in the area. We are dedicated to serving our local community and providing a convenient spa experience for our customers.
Ready to treat your kids to a day of pampering and fun? Contact Sweet & Sassy of Katy today to book your kids spa day or learn more about our services.
---
For more information about our hair and nail salon and spa services for kids in Katy, TX, call

(281) 990-4838

or contact us online today!
---