Kids Spa & Salon Ridgewood
Get the Royal Treatment at Our Unique Kids Party Place
Are you looking for a special way to celebrate with your closest friends? Why not try booking a party at our Sweet & Sassy kids spa & salon in Ridgewood?! Everyone deserves to be pampered once in a while, and for kids 0-13, Sweet & Sassy® is the perfect choice. We are a spa and salon in Ridgewood that caters to kids with customizable spa packages.
Our kid spa offers Sweet Treat manicures and pedicures, lipgloss creation stations, and finger and toe rings. The licensed cosmetologists in our salon are ready to give you the look you dream of. Updos, braids, blowouts—you name it. From the moment you walk in until it's time to head home, you'll be immersed in a world filled with your favorite things. Part sweet, part sassy, and 100% fun.
To keep up with Sweet & Sassy Events, follow us on Instagram and Facebook today!
To learn more about our kids hair salon and spa near you, call Sweet & Sassy of Ridgewood at (210) 880-1845 or contact us online to schedule an appointment today!

Unforgettable Celebrations
Whether it's a big birthday or a grade school graduation, Sweet & Sassy of Ridgewood can provide the princess party you deserve for any occasion. We are the kid's choice for celebrations big and small. With four fun and unique themes to choose from—including Fashion Runway, Girls Rock, Spa-Tacular, and Perfect Princess—we'll let you customize the experience to your liking. Party offerings include fun activities, lip gloss and lotion creation stations, a special gift for the birthday kid, and numerous other customizable add-ons. Dance, sing, strut, or pamper your afternoon away in the company of your closest friends and make memories you'll be talking about for years to come. Book your party with us today and celebrate the awesomeness of being a kid.
Just a Few of the Fun Things You Can Do with Your Friends at Sweet & Sassy of Ridgewood
There are a ton of different fun ways you can spend a weekend, weekday, or birthday when visiting Sweet & Sassy. There's no limit to the fun you can have dressing up, dancing, singing, laughing with your friends. Check out some of the cool services we offer for your special day.
Makeover Parties
Rockstar Parties
Princess Parties
Runway Parties
Hair Braiding / Updos
Manicures
Pedicures
Facials
Kids' Salon for Parties Near You
Sweet and Sassy Party Packages
Our sweet packages are the easiest way to get the most glam for your buck. When booking a birthday party or special celebration with us, you can expect to spend just under two hours for a party of eight getting made over from head-to-toe. Step into your dream world with package deals suitable for a number of our services. Looking for a Mommy and Me Mini-Mani? Does The Ultimate Makeover Experience sound more up your alley? From parties to pampering to ear piercing near you, our licensed cosmetologists are excited to offer a variety of kids salon & spa packages to suit your needs.
---
What are you waiting for? Call Sweet & Sassy of Ridgewood at (210) 880-1845 or contact us online to book an appointment today.
---
view our brochure
Now hiring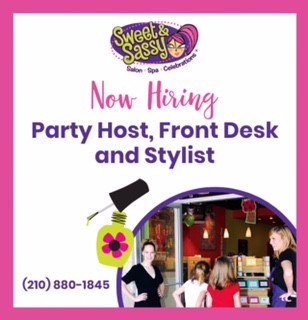 Apply Here