Kid's Hair Salon, Spa & Party Place Southlake
Glamorous Kids Spa Near You
If you're looking for a place where a kid can be a kid in the company of friends and family, look no further than Sweet & Sassy®! We are a spa for kids and hair salon in Southlake, TX. Just let us know what you want and we'll make sure you are pampered as you deserve at a Sweet and Sassy location near you.
From Sweet Treat manicures and sassy kids haircuts to lip gloss make your own to fancy updos, we offer it all. Our friendly team is here to make you feel like the belle of the ball—or the star of the stage.
All our services take place in our pink and purple decorated store complete with fun music, photo ops, and endless kid-oriented conversation. So make an appointment today and prepare yourself for the best time ever!
To learn more about our kids hair salon and spa in Southlake, TX, call Sweet & Sassy® at (214) 247-1503 or contact us online to schedule an appointment today!
Check our our feature with NBCDFW Texas Today!

Plan Your Next Princess Party with Sweet & Sassy®
Getting ready to celebrate a birthday or another occasion? Look no further than Sweet & Sassy of Southlake.
We have the best kids party space in Southlake and can make your dreams come true.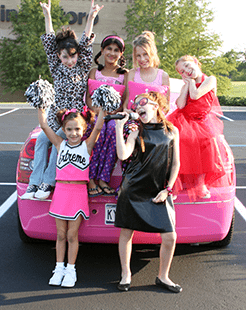 Reserve your day at a Sweet and Sassy location near you.
Four Exciting Party Themes
We have four fun themes for you to pick from:
Perfect Princess
Pop Star
Spa-Tacular
Fashion Runway
You'll be sure to find the perfect match.
Our Party Packages Are All-inclusive
When you plan your party with us, we'll handle all the details.
Our birthday packages include:
Customizable invitations,
Themed activities,
A group photo for each of the guests, and
A special gift from us to the birthday star.
We're more than just a space to have a party—we're in the business of making memories you'll be talking about for years to come!
We love birthday party celebrations - and it shows! Call us at (214) 247-1503 or book your kids' party online at a Sweet and Sassy location near you.
About Southlake, TX
A suburb of Dallas/Fort Worth, the area was settled in the 1840s and incorporated as Southlake in 1956. Before incorporation, our city was made up of the settlements of Whites Chapel, Dove, Union Church, and Jellico.
The completion of the DFW International Airport accelerated Southlake's growth starting in the 1980s. Today, residents and visitors can enjoy outdoor activities at the Bob Jones Nature Center and Preserve and other award-winning parks. Our sister cities are Tome, Japan and Wuzhong, China.