Make Your Ears Sparkle in Southlake, TX
Getting your ears pierced is fun and exciting! At Sweet & Sassy of Southlake, our professional team makes it an extra special occasion with our ear piercing for kids experience fit for divas and royalty!
All of our earrings are sterile, hypo-allergenic, and way too cute! With the purchase of select earrings, you also qualify for a free ear-piercing. After a shiny first pair of earrings is chosen, we will get them on your child's ears so smoothly they should not feel more than a pinch.
Schedule your kids' ear piercing in Southlake by calling us at (214) 247-1503. Or you can book online!
What's Included in Our Southlake Kids' Ear Piercing Services?
Our ear-piercing services include:
Your choice of 14k gold or stainless-steel earrings
A sanitizing solution
A soft, throne-like chair to sit on & a stuffed animal to hold for comfort
A yummy lollipop
A personal keepsake photo (please double-check that this is offered at the time of your ear-piercing appointment by contacting our local Sweet & Sassy® staff)
An awesome certificate
Check out our Sweet & Sassy® coupons page for seasonal discounts!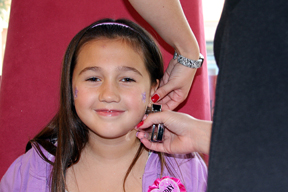 Answers to Your Ear-Piercing Questions
When it comes to ear piercing for kids, concerns are common. We hear you!
Below are answers to some of the questions we receive most frequently:
We offer ear-piercing services for children as young as four months old – please confirm when making an appointment.
The pain associated with ear-piercing differs from child to child. For most, it is no worse than a quick pinch.
We recommend calling ahead to make an appointment to avoid a needlessly wait. Because we pierce both ears simultaneously (to make the process as painless and easy as possible), ear-piercings require two available and trained staff members.
Our ear-piercing specialist(s) will go over how to properly clean your earrings, which requires applying a cleaning solution twice a day.
It is important to keep the first pair of earrings continuously in your ears for at least two months.
We solely offer Surgical Steel or 14k Gold earrings due to their low risk of triggering allergic reactions.
You may try other earrings after two months. Besides the time it takes to change earrings, we recommend keeping them continuously in yours ears for the first year.
Call (214) 247-1503 to book an ear-piercing appointment or contact us online for more information about our Southlake Kid Salon and Spa services today!